Under Construction
OATControl is specifically written for the OAT and will not work with any other scope, even though it uses the Meade LX200 protocol to communicate with the OAT. We have, however, added many extra commands to that protocol that are very specific to the OAT and that allow OATControl to display and do things no other client can do.
Latest release can be found on OpenAstroTracker-Desktop repository in GitHub.
OATControl only controls the mount, it does not have the ability to connect to any cameras or other devices.
The program consists mainly of one screen, which is used to access the main functionality of the mount. There are some other smaller screens and dialogs that will be covered later.
This is the main screen (as of mid-April 2021):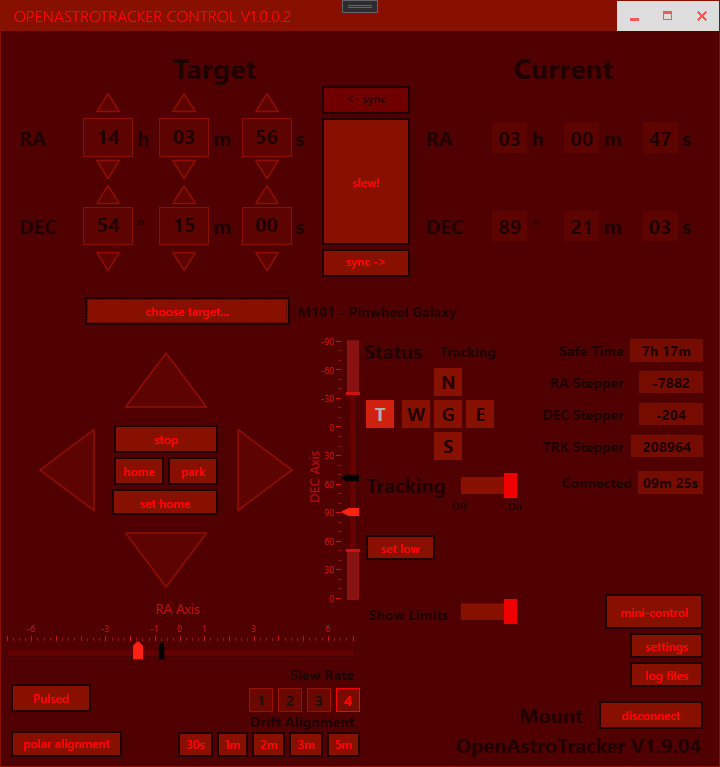 You can set the target coordinates in the top left area, you can see the current coordinates in the top-right area, there are buttons to sync one to the other and there's a big slew button to move to mount from the current to the target coordinates.
You can slew the mount with your keyboard. This is done from the mini-control window (which must be active) RA/DEC is controlled by arrow keys, ALT/AZ by WASD keys.