This is a relatively new feature and has not been tested fully yet. Use at your own discretion and expect there may be issues.
The OAT firmware supports a lens focuser.
MKS Gen L v2.1
MKS Gen L v2.0
The repositories below contain the printable designs depending on your lens. There are currently two designs you can choose from:
This is a generic lens focuser that mounts to the aluminum extrusion underneath the lens.
| Parts | Quantity |
| --- | --- |
| Round NEMA14 stepper | 1 |
| M4 8mm screw | 3 |
| M4 T-nut | 3 |
| M3 20mm screw | 1 |
| M3 12mm screw | 2 |
| M3 nut | 1 |
| M2 20mm screw | 1 |
| M2 nut | 1 |
Design specifically for the Russian MTO 500mm mirror lens.
This addon is a motorized focuser for the SharpStar 61EDPHII scope mounted on the OAT.
It contains a pulley wheel that goes over the fine focusing control (the brass/gold colored knob) and replaces the DEC arm on one side.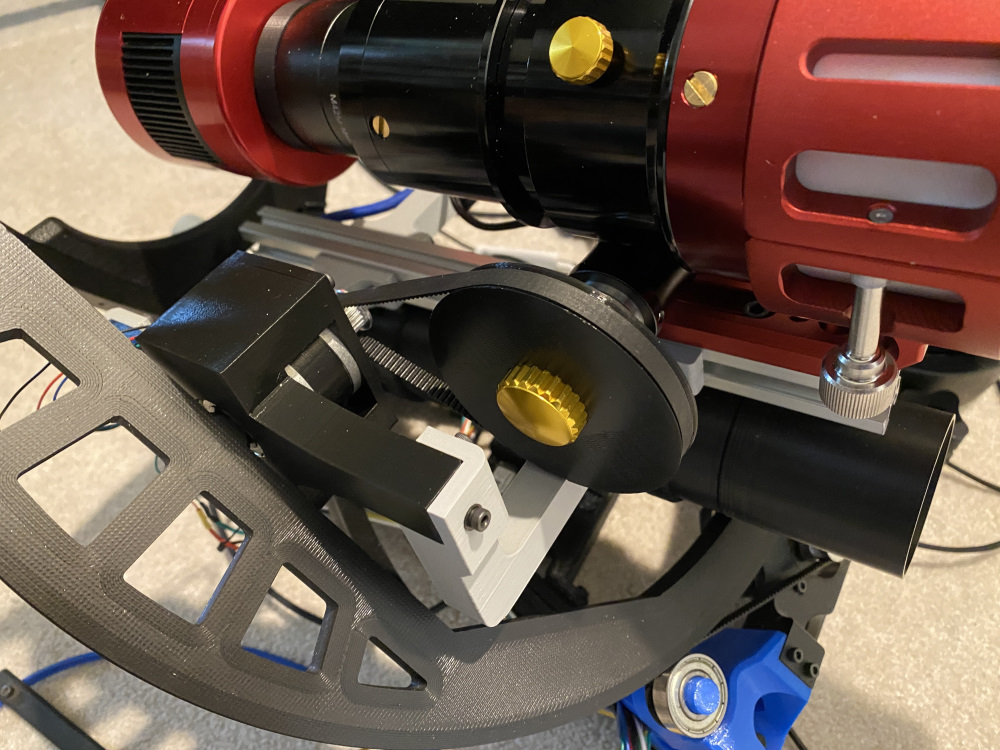 It is dimensioned for a 20mm high pancake NEMA14 stepper.
You'll need a GT2 belt (5cm diameter worked for me) and a GT2 pulley.
To enable the focuser, choose it from the online configurator to add the entries to your local config and reflash your firmware. Make sure you are using ASCOM Driver V6.6.1.0 or later and firmware V1.9.16 or later.
OATControl V1.0.1.0 (and later) supports moving the focuser from the Minicontrol window.
Any ASCOM-based focusing software suite (SharpCap, SGP, NINA, etc.) can also use it.