The MKS Gen L V2.1 is recommended as a main board for the OAT when using NEMA steppers. It greatly simplifies the wiring required which reduces the likelihood of hardware issues.
The MKS Gen L V2.0 is also suitable, however autohoming will require some jumper wires (see below).
The MKS Gen L v1.0 can work if the newer versions are not readily available, however some features require additional signal wiring (e.g. UART).
RA/DEC Motors using NEMA steppers and TMC2209s.
UART support
AutoPA support using NEMAs or bipolar modified 28BYJ with TMC2209s.
Focuser support using NEMAs or bipolar modified 28BYJ with TMC2209s.
Arduino LCD shield with buttons.
Dual Dew heater support via HE0 and HE1 mosfet.
AutoPA support for plain 28BYJ steppers (with external ULN2003 drivers).
RA/DEC support for plain 28BYJ steppers (with external ULN2003 drivers).
The whole point of the MKS is to reduce wiring and using 28BYJ steppers requires relatively complex wiring of an external ULN2003.
The develop branch currently has support for the MKS Gen L boards.
Choose the appropriate MKS Gen L board in Configuration_local.hpp. Refer to the Constants.hpp file for the correct options.
All driver signal wiring is integrated on the board and no external driver boards are necessary.
Here is an example of the board configured to use TMC2209 drivers for
the RA/DEC motors (X and Y driver positions, respectively).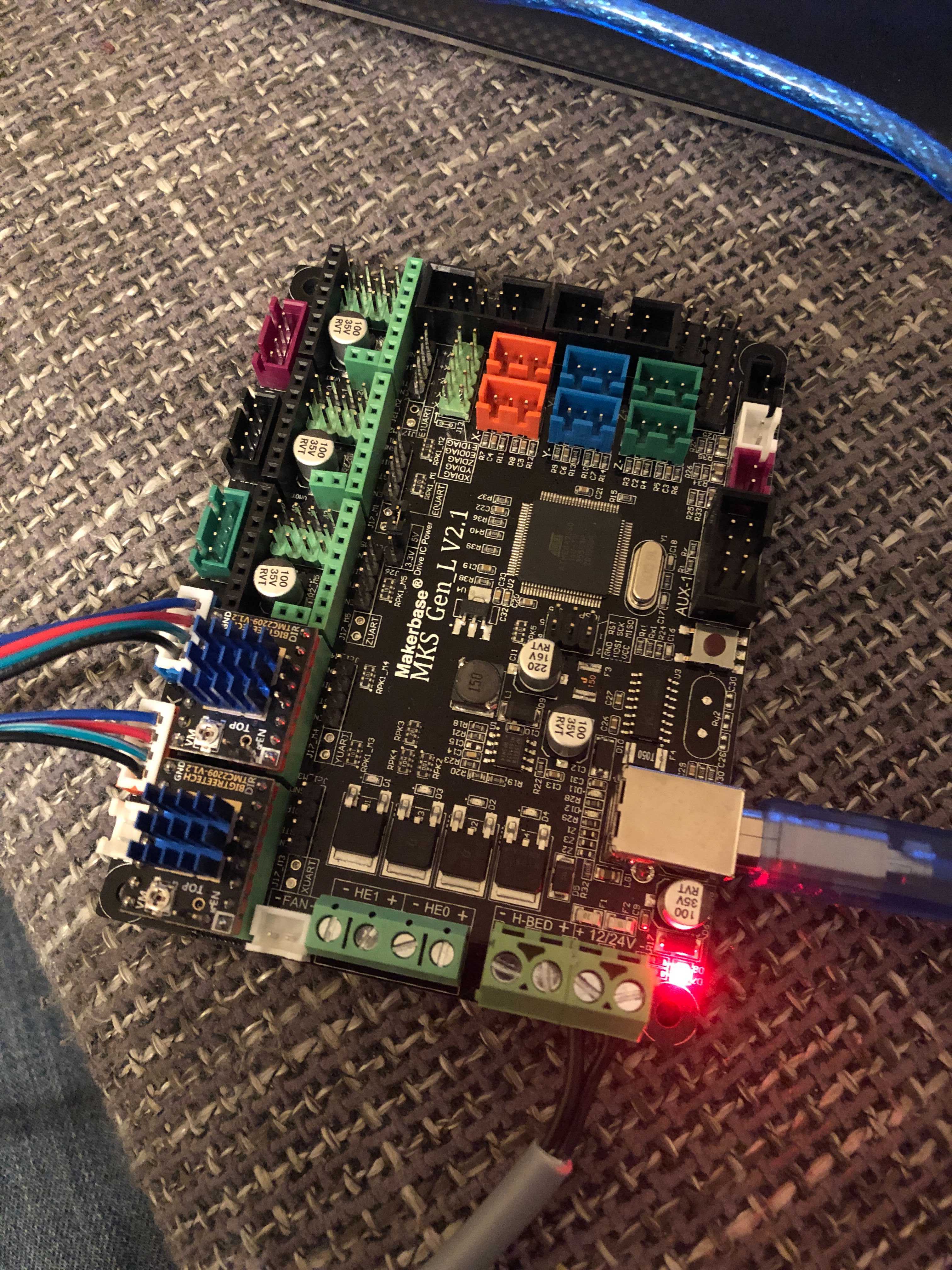 Motors are connected directly to the board using standard 4-wire stepper cables.
AZ/ALT motors are connected to the Z and E0 locations respectively. Refer to the pins file for the board for which pins to use.
28BYJ steppers can be used with TMC2209 (or similar) drivers when converted to bi-polar motors. Otherwise, ULN2003 drivers can be connected according to the pins file.
For V2.1 and V2.0 boards, all UART wiring is internal to the board and no additional wiring is necessary. To enable UART, jumpers need to be inserted.
For V1.0, minor wiring/changes are required.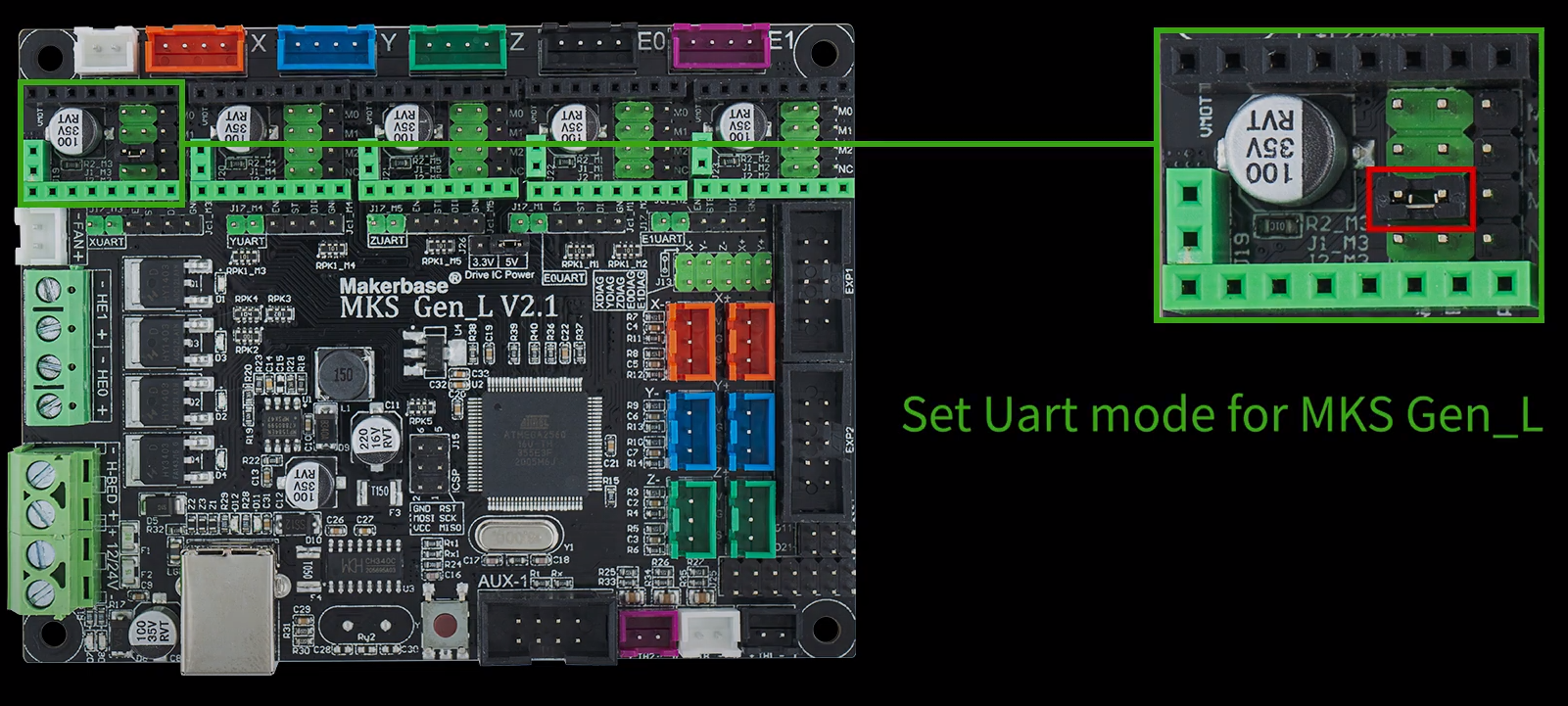 If your V2.0 came with jumpers installed, remove all of them.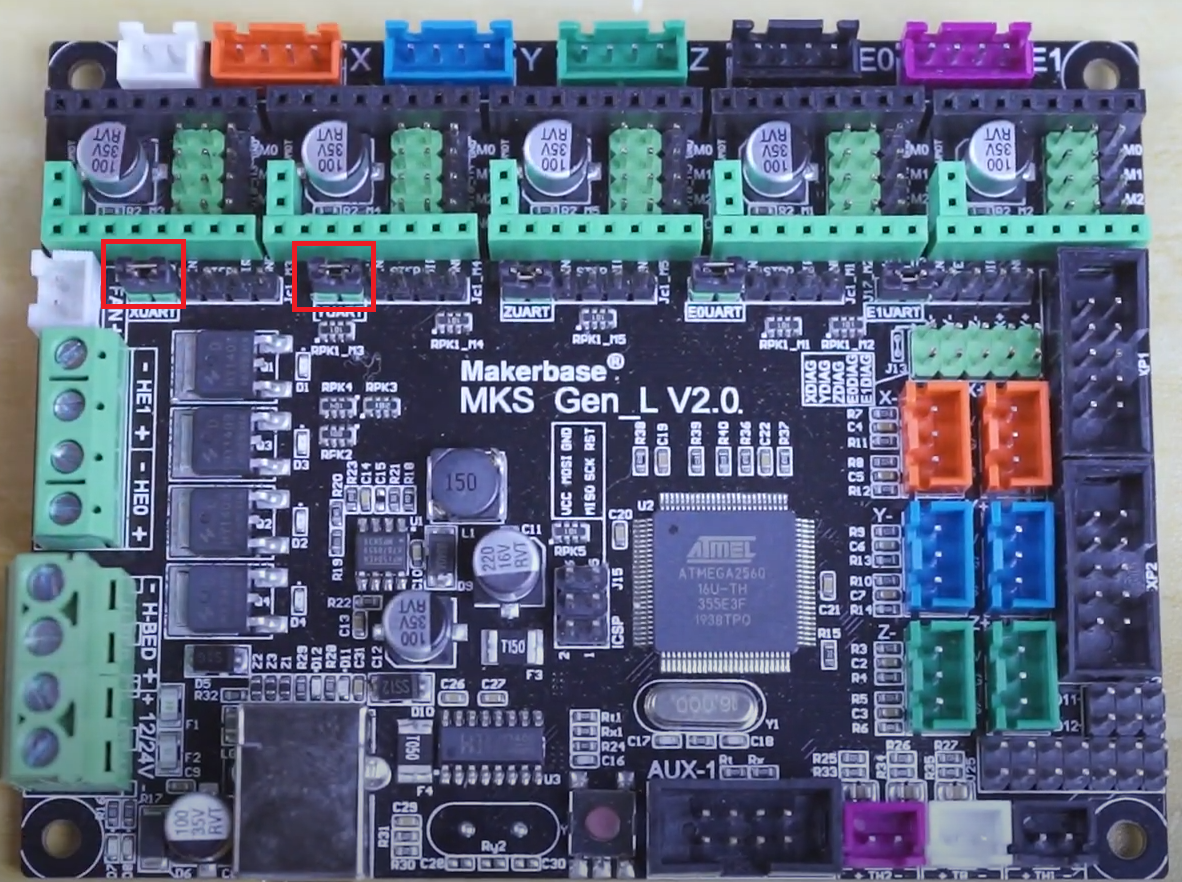 A jumper wire needs to be connected to each driver UART pin from the UART pin listed in the board's pins file. The pinout of the MKS Gen L v1.0 can be found here.
Both of the downward facing UART pins of the TMC2209 (or TMC2208) driver needs to be bent outwards (or cut off) to prevent them being inserted into the driver header. See here for reference. UART will not work properly otherwise.
On the MKS Gen L V2.1 the DIAG wiring is handled internally. A jumper is needed to configure the board logic voltage to 3.3V rather than 5V.
For the MKS Gen L V2.0 and V1.0, the board logic cannot be changed from 5V. Autohoming will require a jumper wire from the DIAG pin on the stepper to another pin on the board.
External power is supplied at 12-24V. Any DC power supply can be used within that voltage range.
If supplying power from a USB battery bank, a 5V-to-12V boost converter can be used.
Alternatively, if the USB battery bank supports USB-C PD (Power Delivery), a USB-C PD receiver module can be used to directly provide up to 20V of power over USB-C.
Do not plug/unplug drivers or steppers while the board is energized. Disconnect power prior to connecting any motors during setup. Failure to do so may fry the board.
The Arduino LCD shield can be connected using jumper wires to pins at
the bottom right side of the board. The pins used are highlighted in
yellow on the LCD Pins image.
These pins correspond to the numbered pins on a typical Arduino Mega
board (they are unlabeled on the LCD shield itself).
| Pin Name | From Pins File | On Pinout |
| --- | --- | --- |
| LCD_KEY_SENSE_PIN | 58 | A4 |
| LCD_PIN4 | 57 | A3 |
| LCD_PIN5 | 6 | D6 |
| LCD_PIN6 | 45 | D45 |
| LCD_PIN7 | 5 | D5 |
| LCD_PIN8 | 43 | D43 |
| LCD_PIN9 | 47 | D47 |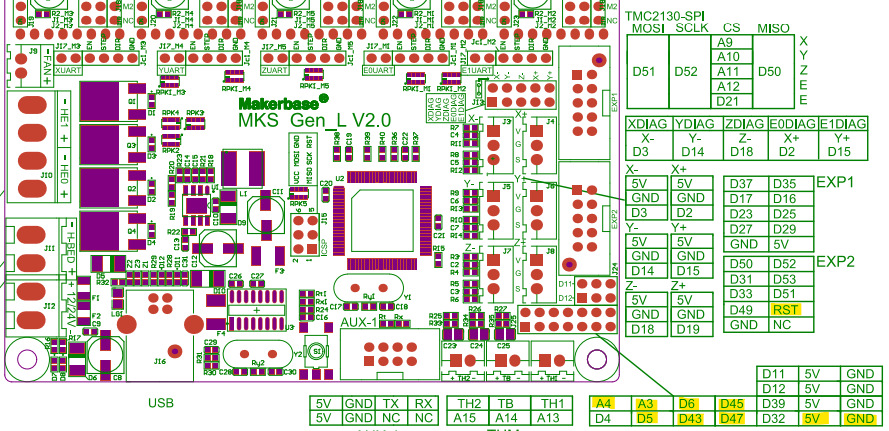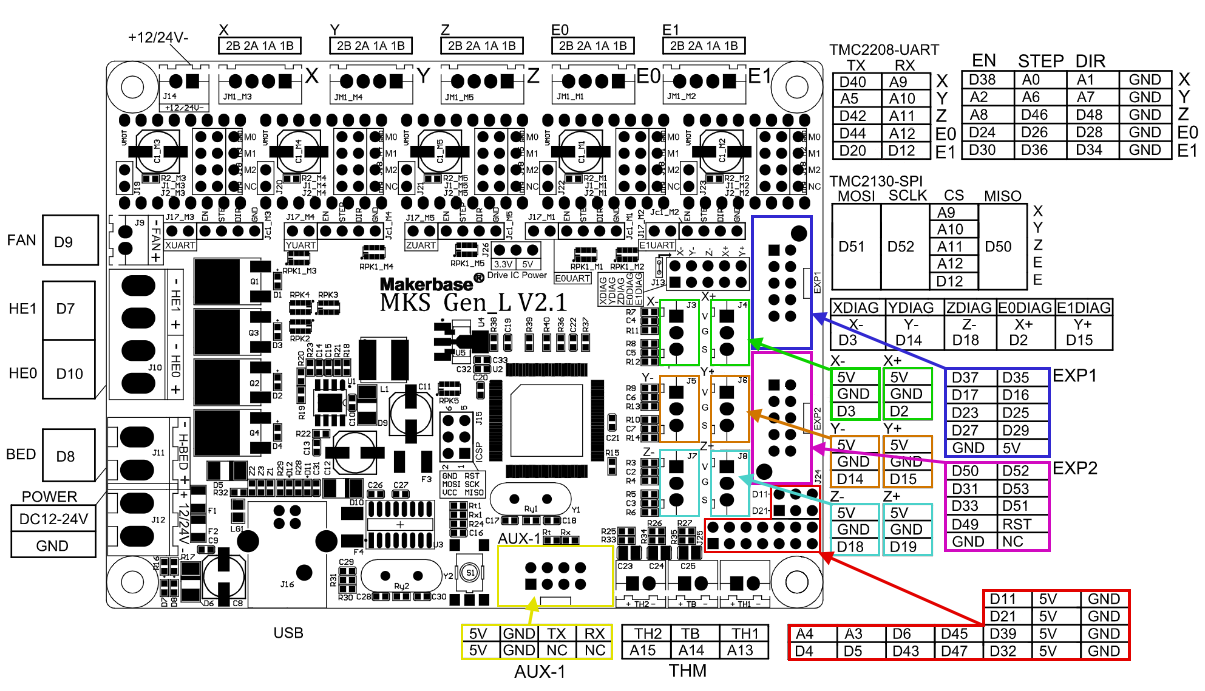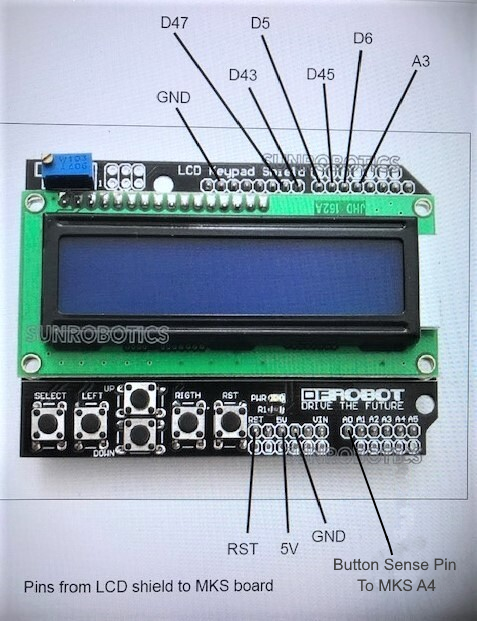 The LCD menu is documented here.
MKS Gen L 2.1: https://github.com/makerbase-mks/MKS-GEN_L/blob/master/hardware/MKS Gen_L V2.1_001/MKS GEN_L V2.1_001 SCH.pdf
MKS Gen L 2.0: https://github.com/makerbase-mks/MKS-GEN_L/blob/master/hardware/MKS Gen_L V2.0_001/MKS Gen_L V2.0_001 SCH.pdf
MKS Gen L 1.0: https://github.com/makerbase-mks/MKS-GEN_L/blob/master/hardware/MKS Gen_L V1.0_008/MKS Gen_L V1.0_008 SCH.pdf
If you have trouble connecting to the MKS board your probably missing the CH340 driver. Download from here: https://sparks.gogo.co.nz/ch340.html